Here the first Easter decoration moved in. Actually, already a few days 🙂 After the carnival that did not take place, I rummaged in my Easter boxes in the attic. Because I wanted to make on Instagram these Easter eggs in napkin technique. I looked for the eggs and with these are also the Easter bunnies hobbled down without further 🙂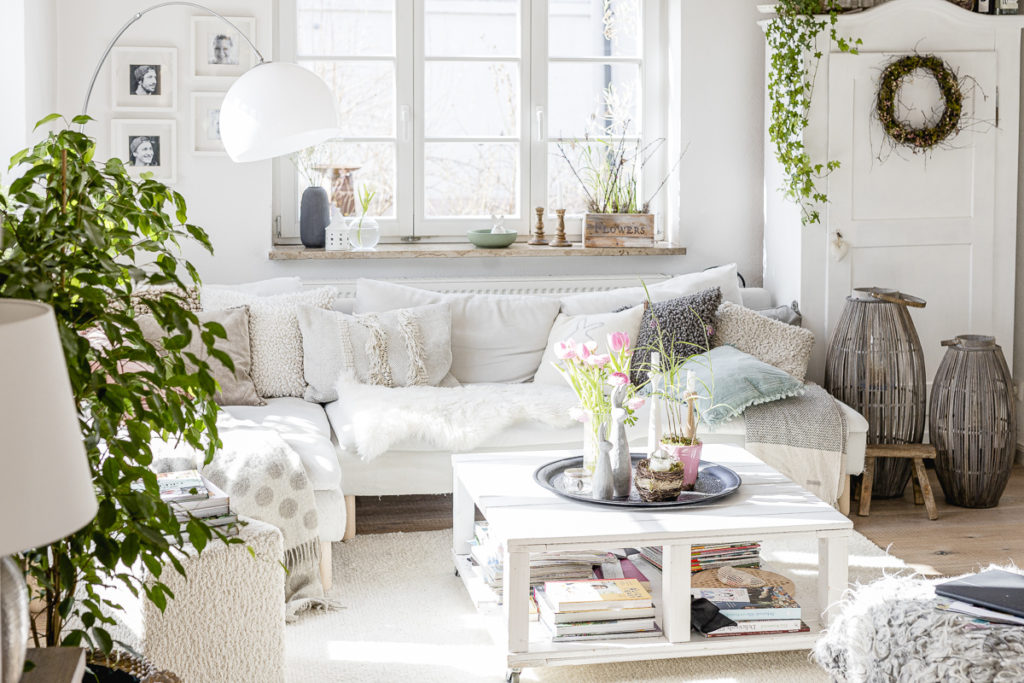 The first Easter decoration in the house and garden
Actually, it's good to look a little further ahead, towards Easter. And with the first warm rays of sunshine this week, you almost get spring fever 😉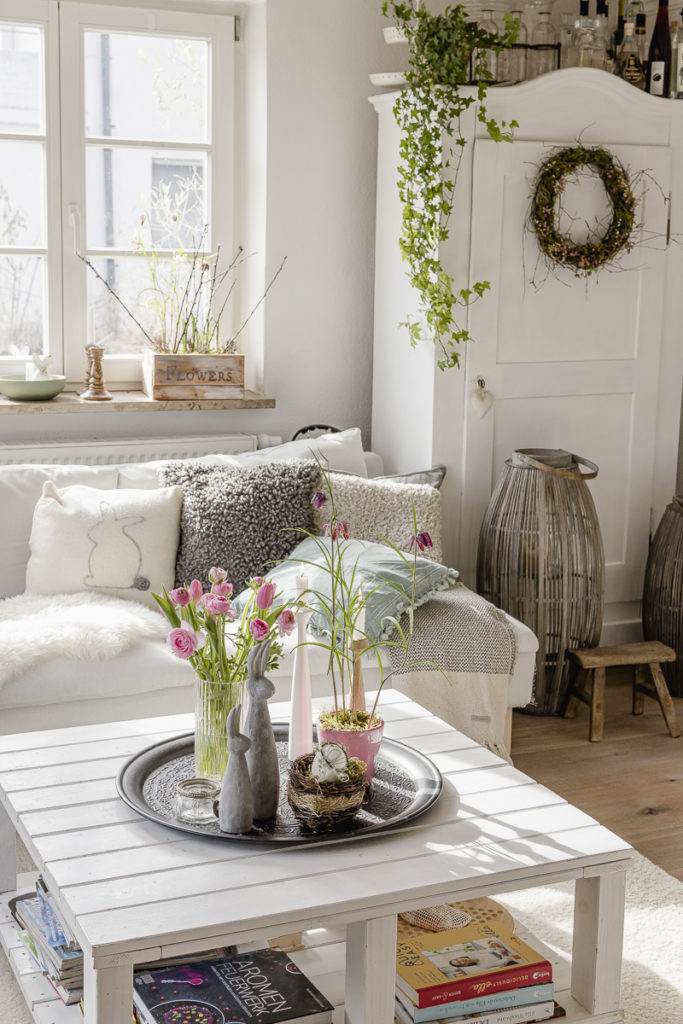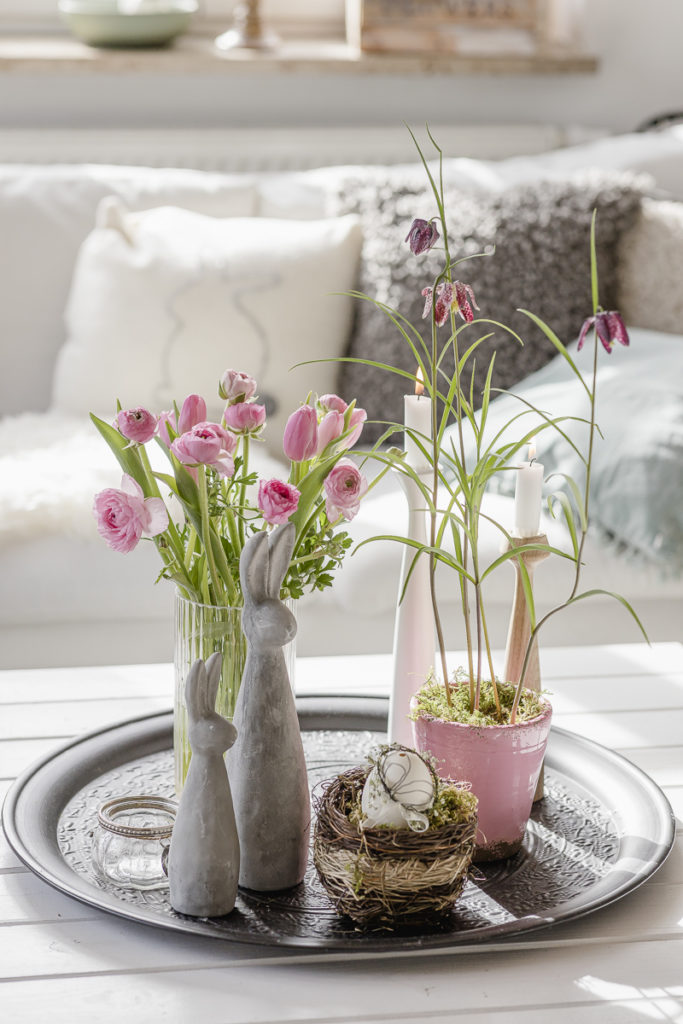 Here I have pink tulips and ranunculus from the supermarket combined with a few checkerboard flowers from the weekly market. I bought the planter last year at Merz and Benzing in Stuttgart.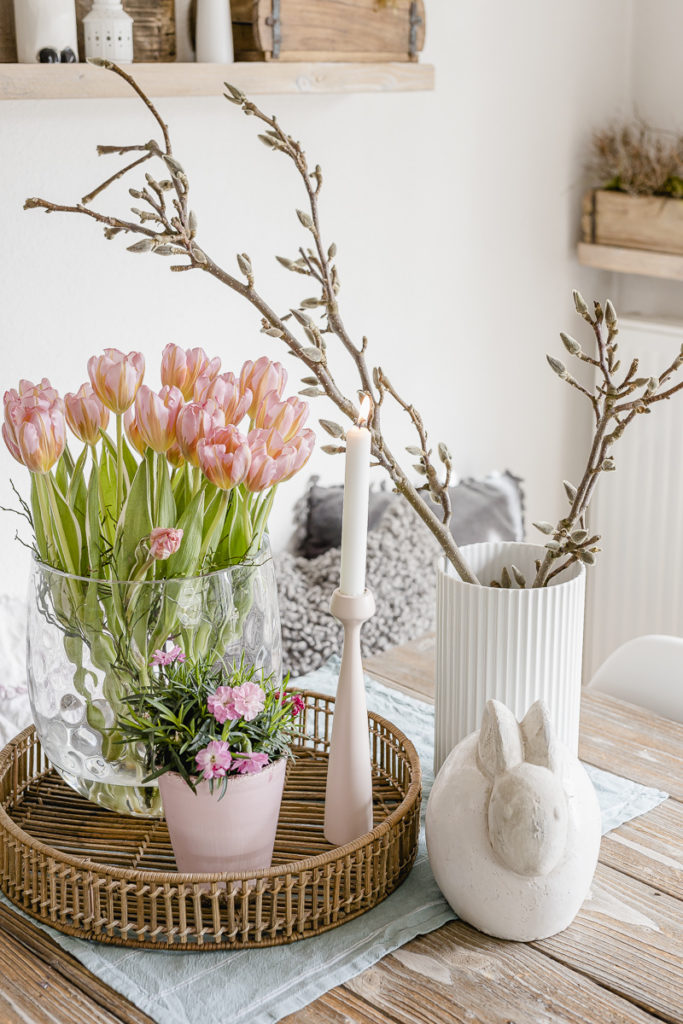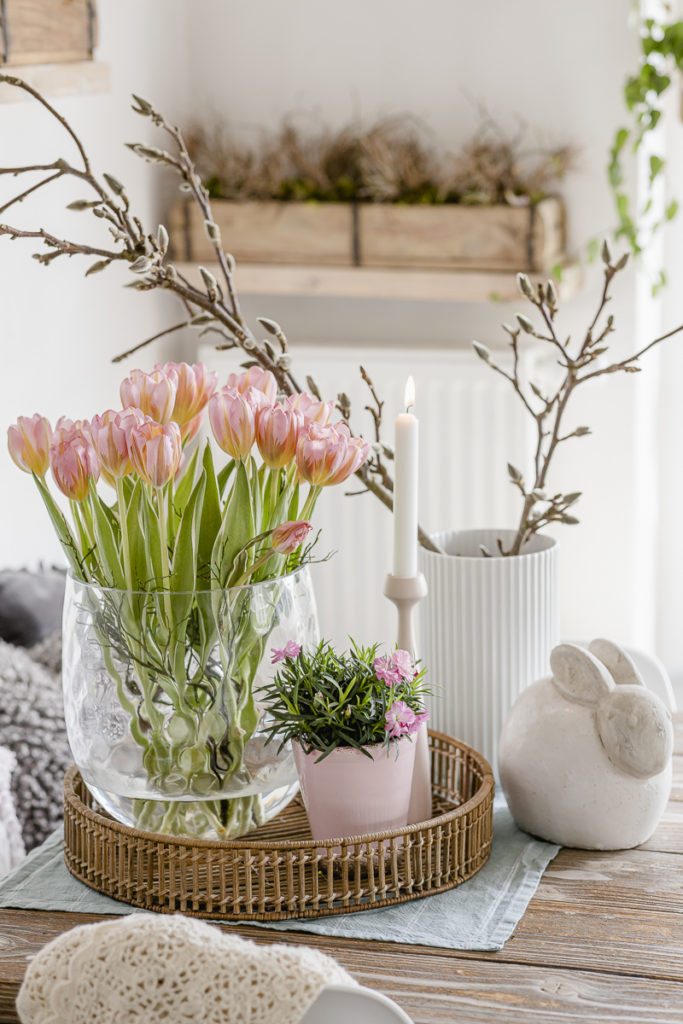 The bunny I had bought last year in a flower store. In my large glass vase I have arranged tulips from the weekly market and in my Lyngby vase is a beautiful magnolia branch. I'm already curious whether he also blooms as beautiful as the one from the last year.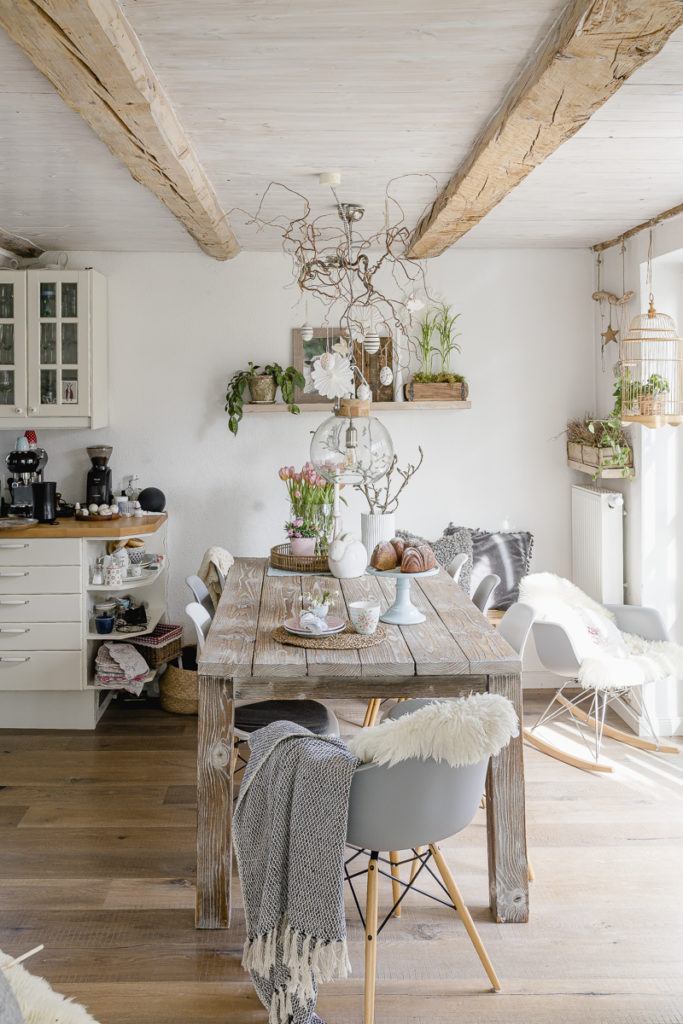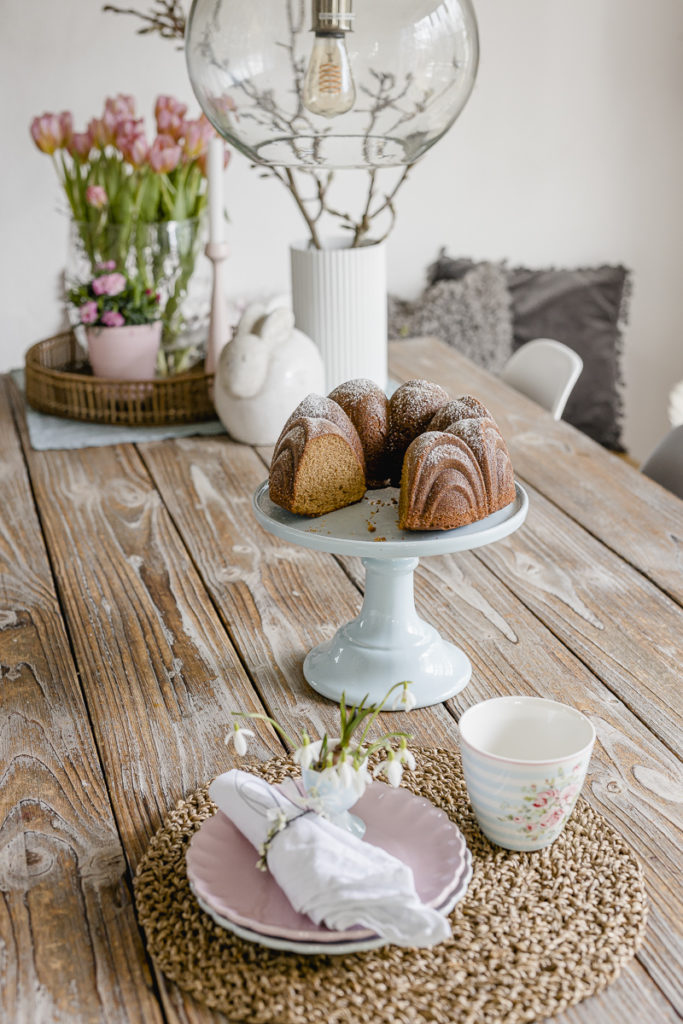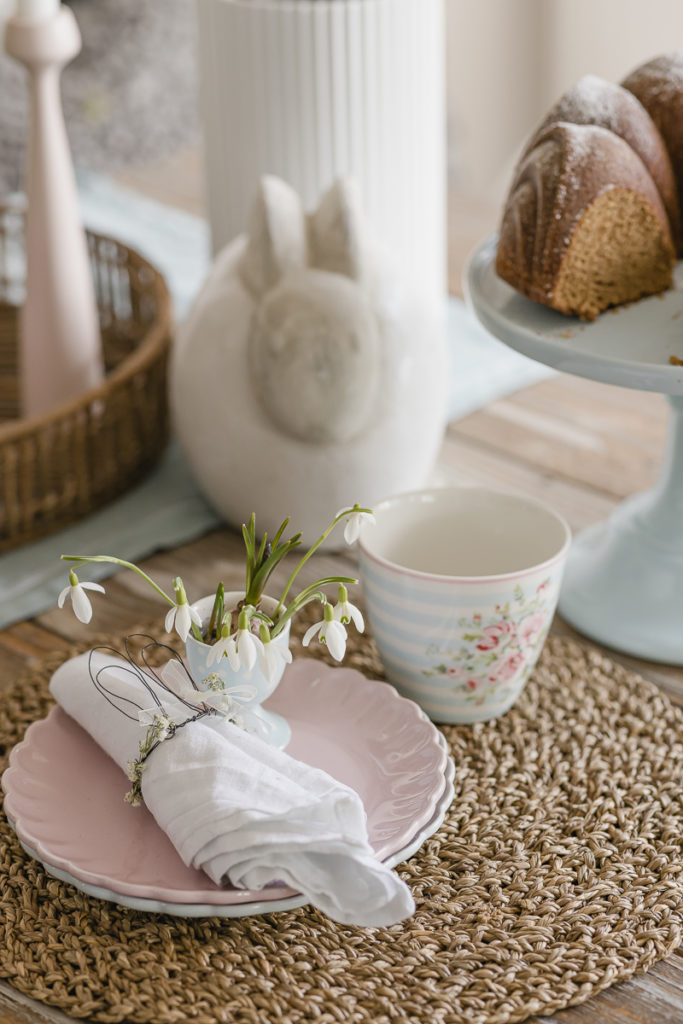 Egg liqueur guglhupf without white sugar
As you may know, the man of my heart and I have been on a four-week cure. That means vegan diet, no white sugar and no alcohol. Even now we are paying a little attention to that. We cook a lot of vegan anyway and I also want to replace white sugar more often. When I baked the first cake after our cure, I replaced the sugar….
You already know the eggnog guglhupf from here
Drucken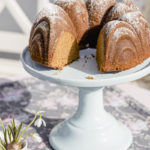 Egg Liqueur Cake
Zutaten
250

g

soft butter

250

g

sugar

1

vanilla sugar

6

eggs

250

g

flour

50

g

cornstarch

1

sachet

baking powder

250

ml

egg liqueur
Anleitungen
First preheat the oven to 175 degrees. Grease a Guglhupfform well and then flour it!

In the meantime, cream butter with sugar and vanilla sugar. Gradually add the eggs and mix until creamy. Finally, stir in flour, cornstarch and baking powder, as well as the eggnog.

Finally, pour the batter into the pan, smooth it out and bake at 175 degrees on the second rack from the bottom for about 50 minutes. Wooden stick test!

Then let it cool and dust with powdered sugar
I replaced the white sugar here with 180g coconut blossom sugar…. He tastes a little more caramel and is also brown and not yellow ;))
The eggnog I always make in my TM clone…. This time I have also replaced the sugar.
Drucken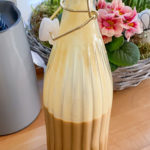 Egg liqueur homemade, Thermomix
In a Thermomix you make the eggnog quickly yourself…. It is super creamy
Zutaten
8

egg yolks

180

g

coconut blossom sugar

200

ml

cream

200

ml

condensed milk

1

vanilla pod

some tonka bean grated

150

ml

white rum

150

ml

Doppelkorn
Anleitungen
Put all ingredients in the mixing bowl and stir for 8 min at 70°C on speed 4. Pour into a bottle and leave to cool.
You can of course take any other sugar for it, even white…. 😉
Have a great start to the weekend and stay healthy! Big hug ♥♥♥
I take part with : Friday Flowerday